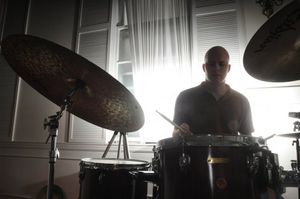 John was born into a musical family and began studying music at the age of 4. At age 12 he began to play drums and received many awards as he progressed through Jr. and Sr. High School. After High School he went on to complete a Bachelor of Music Degree in Percussion Performance from Gordon College, during which time he toured both North America and Europe with various ensembles.  

In addition to drumming for HDR&B, he frequently performs with Soul Force V, The Henley Douglas Jr. Quartet, The Boston Horns, Route Three (blues/soul band), Lauren Coen, The Erinn Brown Band, The Route Three Blues Trio, as well as a rotating cast in his Jazz Trio, The Gordon Symphony Orchestra, and various other side projects ranging from Blues, Jazz and Rock, to Classical and electronic. In the past he also performed with many national and international artists including the Grammy nominated violin virtuoso James Buswell, and John Jorgensen of Elton John and the Helecasters.

John has studied with top drummers such as Kenwood Dennard and Tommy Igoe. He runs a successful private teaching studio and has taught competitive drum lines at area high schools. John engineers recording sessions for local emerging artists and is always open to exploring new collaborations and forms of musical expression.